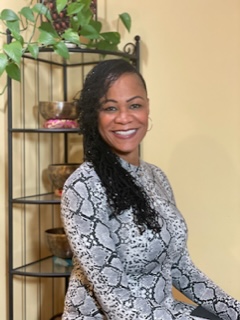 I am a Certified Master Life Coach and Reiki Master Teacher training as a Clinical Psychology Practicum Intern under the supervision of Dr. Cindy T. Graham; however, for 19 years, I've cultivated safe space for clients as a Hairstylist. Listening intently to clients while conversing about personal challenges, I discovered that many have deep-rooted trials that require knowledge and expertise beyond my capability as a hairstylist or life coach. Regardless of age, marital status, education, culture, or career path, a common thread amongst the women I serve is a history of unresolved trauma. Over the years, I developed a deep interest in understanding cognitive behavior as I recognized that traumatic experiences leave an imprint in the mind. By pursuing graduate work in psychology, I did not only want to understand how trauma affects an individual's mental, emotional, and behavioral aspects, but I also wanted to equip myself with the skills to offer clients therapeutic support appropriately.
I am a graduate student at Capella University, pursuing a Master's degree in Clinical Psychology with a specialization in Clinical Counseling. My goal is to become a Licensed Professional Counselor (LPC) and work with women with a history of childhood sexual trauma diagnosed with depression, anxiety, or symptoms of post-traumatic stress disorder (PTSD).
Accepting new clients? Yes.