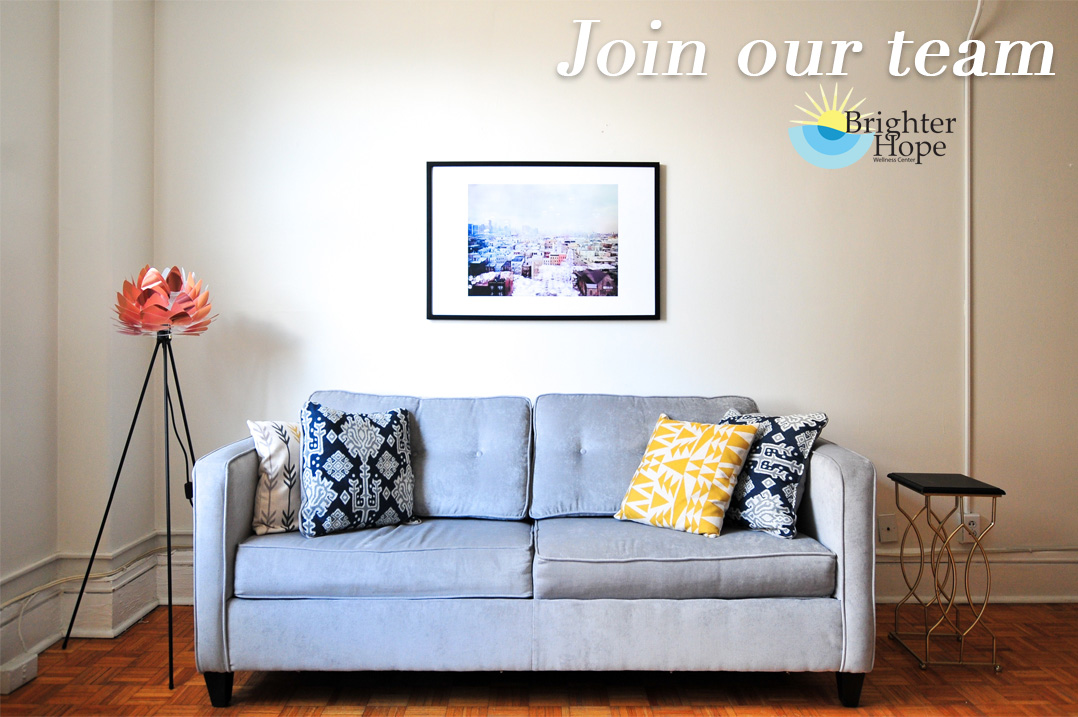 Careers
Brighter Hope Wellness Center is looking for highly motivated clinicians who are dedicated to bringing about lasting change for their clients. We are looking to hire individuals who work well individually but also thrive in the camaraderie of a multi-disciplinary team.
CURRENT POSITION OPENINGS
All positions include the option for working remotely via teletherapy/telemedicine. Must be licensed to practice in the state of Maryland.
BOARD CERTIFIED BEHAVIOR ANALYST The Brighter Hope Wellness Center (BHWC) is hiring for the position of Board Certified Behavior Analyst (BCBA-D or BCBA). BWHC is looking for highly motivated clinicians who are dedicated to bringing about lasting change for their clients. Responsibilities Conduct assessments (e.g. functional behavior assessments, skills assessments, etc.). Create treatment and intervention […]
REGISTERED BEHAVIOR TECHNICIAN The Brighter Hope Wellness Center (BHWC) is hiring for the position of Registered Behavior Technician. BWHC is looking for highly motivated clinicians who are dedicated to bringing about lasting change for their clients. Responsibilities Strong work ethic Work consistently to ensure that clients receive the highest quality therapy possible Be punctual, […]
PSYCHOLOGIST (AUTISM SPECTRUM DISORDERS) The Brighter Hope Wellness Center (BHWC) is hiring for the position of Psychologist. BWHC is looking for highly motivated clinicians who are dedicated to bringing about lasting change for their clients. Responsibilities Provide direct services in the form of individual and family psychotherapy. Conduct evaluations, assessments, and testing. Provide direct […]
PSYCHOLOGIST (CHILD AND ADOLESCENT) The Brighter Hope Wellness Center (BHWC) is hiring for the position of Psychologist. BWHC is looking for highly motivated clinicians who are dedicated to bringing about lasting change for their clients. Responsibilities Provide direct services in the form of individual and family psychotherapy. Conduct evaluations, assessments, and testing. Provide direct […]
PSYCHOLOGIST (ADULT) The Brighter Hope Wellness Center (BHWC) is hiring for the position of Psychologist. BWHC is looking for highly motivated clinicians who are dedicated to bringing about lasting change for their clients. Responsibilities Provide direct services in the form of individual and family psychotherapy. Conduct evaluations, assessments, and testing. Provide direct feedback to […]
PSYCHIATRIST (CHILD AND ADOLESCENT) The Brighter Hope Wellness Center (BHWC) is hiring for the position of Psychiatrist. BWHC is looking for highly motivated clinicians who are dedicated to bringing about lasting change for their clients. Responsibilities Conduct psychiatric evaluations. Create treatment and medication management plans. Provide direct feedback to families and caregivers regarding evaluations. […]
PSYCHIATRIST (ADULT) The Brighter Hope Wellness Center (BHWC) is hiring for the position of Psychiatrist. BWHC is looking for highly motivated clinicians who are dedicated to bringing about lasting change for their clients. Responsibilities Conduct psychiatric evaluations. Create treatment and medication management plans. Provide direct feedback to families and caregivers regarding evaluations. Provide direct […]
PSYCHIATRIC NURSE PRACTITIONER (CHILD AND ADOLESCENT) The Brighter Hope Wellness Center (BHWC) is hiring for the position of Psychiatric Nurse Practitioner. BWHC is looking for highly motivated clinicians who are dedicated to bringing about lasting change for their clients. Responsibilities Conduct psychiatric evaluations. Create treatment and medication management plans. Provide direct feedback to families […]
Licensed Social Worker/Counselor The Brighter Hope Wellness Center (BHWC) is hiring masters level clinicians. BWHC is looking for highly motivated clinicians who are dedicated to bringing about lasting change for their clients. Responsibilities Provide direct services (for example, individual psychotherapy, family psychotherapy, group psychotherapy, couples psychotherapy). Implements evidence-based treatment (e.g., Cognitive-Behavioral Therapy, Dialectical Behavior […]
SOCIAL MEDIA MARKETING INTERN The Brighter Hope Wellness Center (BHWC) is hiring for the position of Social Media Marketing Intern. BWHC is looking for a highly motivated intern develop and implement a comprehensive social media strategy to increase our web traffic and our brand awareness. This is an unpaid internship and is the perfect opportunity […]