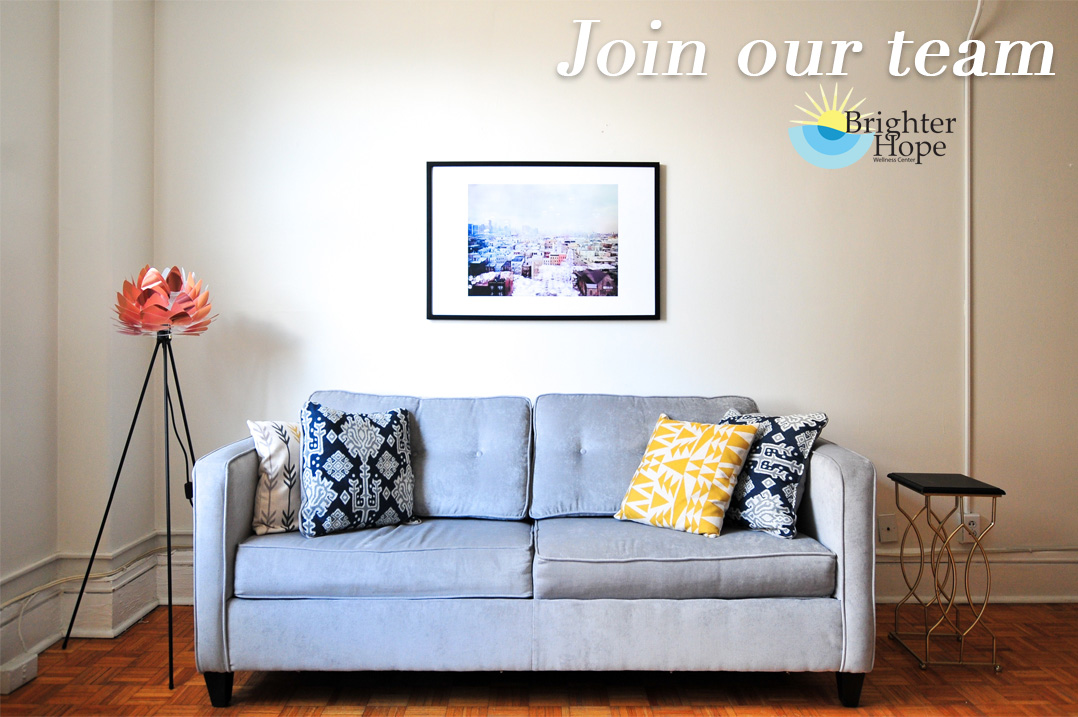 Careers
Brighter Hope Wellness Center is hiring highly motivated people who are dedicated to bringing about lasting change for their clients. We are looking to hire those who work well individually but also thrive in the camaraderie of a multi-disciplinary team.
Why choose Brighter Hope Wellness Center?
In addition to our commitment to providing high-quality and culturally competent care to our clients, Brighter Hope Wellness Center values the experiences of our clinicians and staff. Ideal candidates are those who also have a heart for providing mental health and wellness services to clients who would otherwise not have access to this care.
At Brighter Hope Wellness Center, we have worked to create an environment that allows for growth, stability, and flexibility. For early career professionals, we provide supervision and training to help you acclimate to the world of private practice. Mid and late career professionals have the opportunity to add valuable insight based on their experiences. Weekly team meetings helps to build a sense of community as well as having an opportunity to stay connected with all levels of staff at Brighter Hope Wellness Center present, from our interns to the owner. These team meetings are also an opportunity to discuss wins for the week, ask questions, give feedback, receive group supervision, and obtain updates. Most importantly, we encourage our staff to disconnect from work at the end of the work day and make it easy to do so with the systems we have in place.
Settings
Virtual (i.e., telehealth/teletherapy/telemedicine)
In-person
School-based (in select Howard County Public Schools)
Hybrid (choose to provide a combination of virtual, in-person, &/or school-based services)
Benefits include:
Most positions have the option to be fully remote via teletherapy/telemedicine
W2 Employee status
Full administrative support: all administrative support is provided (e.g. billing, scheduling, office supplies, etc.)
Medical insurance
Dental insurance
Vision insurance
Retirement plan: 401(k) with match
Flexible Spending Account
Paid holidays
Personal Time Off (PTO)/vacation time
Sick Leave
EAP services: includes mental health, legal counseling, financial counseling, and more
Life, AD&D, short-term disability, and long-term disability coverage
Professional liability
Credentialing with insurances
Continuing education stipend
Computer/laptop: including tech support
Electronic Health Record: complete with templates to reduce time spent on "paperwork"
Performance bonuses
and more!!
CURRENT POSITION OPENINGS
Both full- and part-time positions are available. Click on the appropriate link below. Thank you for your interest in joining the Brighter Hope Wellness Center Team!!
BOARD CERTIFIED BEHAVIOR ANALYST The Brighter Hope Wellness Center (BHWC) is hiring for the position of Board Certified Behavior Analyst (BCBA-D or BCBA). BWHC is looking for highly motivated clinicians who are dedicated to bringing about lasting change for their clients. Responsibilities Conduct assessments (e.g. functional behavior assessments, skills assessments, etc.). Create treatment and intervention […]
PSYCHIATRIC MENTAL HEALTH NURSE PRACTITIONER The Brighter Hope Wellness Center (BHWC) is hiring for the position of Psychiatric Mental Health Nurse Practitioner. BWHC is looking for highly motivated clinicians who are dedicated to bringing about lasting change for their clients. Responsibilities Conduct psychiatric evaluations. Create treatment and medication management plans. Provide direct feedback to […]
PSYCHIATRIST The Brighter Hope Wellness Center (BHWC) is hiring for the position of Psychiatrist. BWHC is looking for highly motivated clinicians who are dedicated to bringing about lasting change for their clients. Responsibilities Conduct psychiatric evaluations. Create treatment and medication management plans. Provide direct feedback to individuals, families, and caregivers regarding evaluations. Provide direct […]
PSYCHOLOGIST The Brighter Hope Wellness Center (BHWC) is hiring for the position of Psychologist. BWHC is looking for highly motivated clinicians who are dedicated to bringing about lasting change for their clients. Responsibilities Provide direct services in the form of individual, group, couples, and/or family psychotherapy. Conduct evaluations, assessments, and testing. Provide direct feedback to […]
REGISTERED BEHAVIOR TECHNICIAN The Brighter Hope Wellness Center (BHWC) is hiring for the position of Registered Behavior Technician. BWHC is looking for highly motivated clinicians who are dedicated to bringing about lasting change for their clients. Responsibilities Strong work ethic Work consistently to ensure that clients receive the highest quality therapy possible Be punctual, […]
  The Brighter Hope Wellness Center (BHWC) is taking applications for the position of Intern. BWHC is looking for a highly motivated interns for various roles within the practice including: administrative support, business IT, social media, and direct clinical work. Our internship positions are unpaid and therefore represent a wonderful opportunity for undergraduate students to […]
Licensed Social Worker / Counselor / Licensed Marriage and Family Therapist The Brighter Hope Wellness Center (BHWC) is hiring for the position of masters level mental health therapist. BWHC is looking for highly motivated clinicians who believe in providing mental health services to those who otherwise would not be able to access them. The ideal […]