Even though Minority Mental Health Awareness Month (MMHAM) has come to a close, Brighter Hope Wellness still functions as a multiculturally aware practice that effectively provides service to clients of all backgrounds. At Brighter Hope Wellness Center, we value having a team of diverse clinicians of color. We will continue to be aware and have conversations about the specific mental health issues that BIPOC face. For MMHAM 2021, we would like to highlight our summer interns who have been wonderful additions to the Brighter Hope Wellness team.  
Faith Wilson
Faith Wilson is a graduating senior at North Carolina Agricultural and Technical State University, working towards a Bachelor's in Psychology. After undergrad, she hopes to earn a PsyD in Clinical Psychology and become a Marriage and Family Therapist. She is passionate about the mind-body connection, trauma's impact on child development, and also transgenerational trauma that is rooted in the African Diaspora. As a minority herself, Faith believes that mental health is very important due to the fact that systemic racism and social inequalities make minorities more susceptible to a compromised mental well-being. With that, Faith loves BHWC due to their diversity, inclusivity, and multidisciplinary approach to treatment.  
Makenzie Jackson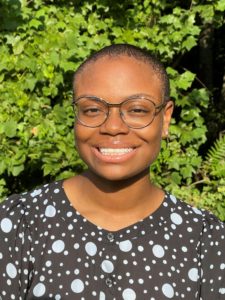 Makenzie Jackson (they/she) is a rising senior at New York University majoring in Psychology with a minor in Studio Art. During their junior year of high school, they were inspired to pursue Psychology because they wanted to learn more about mental health in the black community. Since then, they have become passionate about researching mood and anxiety disorders in children and adolescents, intergenerational trauma, and, more recently, art therapy. After obtaining their bachelor's degree, they plan on taking time to gain more career experience before pursuing a master's degree in clinical psychology or art therapy. Before graduating, Makenzie knew they wanted to have an internship in a setting that would give them insight into how it is to interact with clients directly. After researching into potential places, BHWC just seemed like the right place for them. They were drawn to BHWC because of the diverse staff and the clinician's passion for their work.       
More information about Minority Mental Health Awareness Month can be found here:
National Minority Mental Health Awareness Month (hhs.gov) July is Minority Mental Health Month – Touchstone Mental Health (touchstonemh.org) Bebe Moore Campbell National Minority Mental Health Awareness Month | NAMI: National Alliance on Mental Illness   In need of services? Request an appointment with one of our clinicians at Brighter Hope Wellness Center.